Aid in Zambia continues
Tuesday, April 11, 2017
10 Communities in Zambia receive aid from the Iglesia Ni Cristo, Church Of Christ
LUSAKA, Zambia – Ten sites in Zambia including schools, local churches and poor communities received aid during visits last week of the Felix Y. Manalo (FYM) Foundation, the charitable institution of the Iglesia Ni Cristo (INC or Church Of Christ).
"There's poverty here in this compound, and everyone here needs food. So it's wonderful to get this…We appreciate what you are doing at alleviating poverty".
Kay O. Neil, Manager of the Little Assissi School for Disabled Children.
Residents received 10KG bags of Corn Meal, the staple food in Zambia known locally as "Mealie Meal." The local outreach events were held in neighborhoods where current Church Of Christ Bible students reside, and in townships that had invited the FYM Foundation. Recipients included families from Chinika and Matero, students and teachers of the Little Assissi School for Disabled Children, the Hidden Voice School for Children with Disabilities, the Monastery of St. Clare, Woodlands Parish, the Orphanage at Chelstone and Hours Zingalumi among others.
Before parting, Minister of the Gospel Brother Pepito Y. Acuesta, also shared with the beneficiaries the words of God from the Holy Scriptures as taught and learned during Bible Studies in the Church Of Christ.
These are only the first 10 of what the INC hopes to be ongoing visits, opening doors to build stronger relationships with local government organizations, and most especially, with communities in Zambia who need support.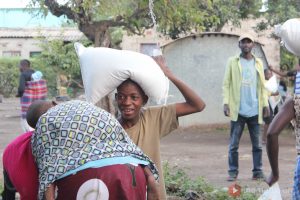 The unfortunate outcome of the recent grand outreach event in Lusaka provided a clearer picture of the hunger, the poverty and the desperation that may live in communities in Zambia. As Christians, the INC came to Zambia to help.
In Africa, the Iglesia Ni Cristo (Church Of Christ) has also partnered with event organizers and governments to hold Aid to Humanity activities in different parts of South Africa, Lesotho and Kenya.
The INC will continue to partner globally with all people of goodwill to help our fellowmen, especially now here in Zambia.
Intensified programs to combat poverty and assist struggling communities have been the top priorities of the Church's outreach programs.
INC General Auditor Glicerio B. Santos, Jr. says that under the leadership of Executive Minister Brother Eduardo V. Manalo, "much emphasis has been placed on the Church's outreach and socio-civic activities, which seek to benefit not just INC members, but also less fortunate communities around the world who need help."
For more photos and information regarding the outreach efforts of the Iglesia Ni Cristo, Church Of Christ, visit INCMEDIAorg.
###
About the Felix Y. Manalo Foundation of the Iglesia Ni Cristo (Church Of Christ)
The Felix Y. Manalo Foundation is the charitable institution of the INC that provides services for people to lead healthy and productive lives, while promoting community development. As long as there are people in need, the FYM Foundation will continue to fulfill its pledge of extending help through aid and services, promoting education, socio-economic well being, environmental awareness, and health improvement. Iglesianicristo.net
Contact
INC Media Services / Lois Paula Riturban
lp.riturban@incmedia.org
(650) 550-0629